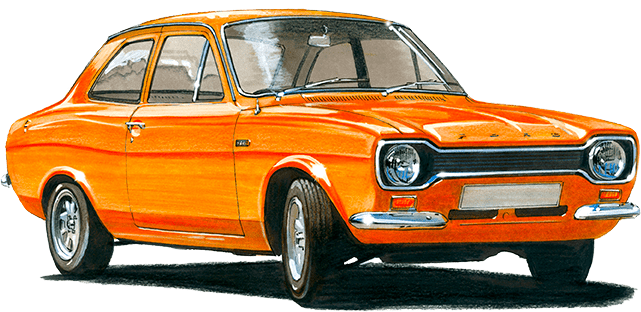 The Ford Escort, a compact car that was produced by the automobile manufacturer Ford from 1968 to 2004, is widely known for its affordability, practicality, and reliability. While it primarily catered to the average consumer looking for a reliable and economical transportation option, the Ford Escort did have a few sport and performance variants throughout its production history.
One of the notable performance variants of the Ford Escort was the Escort RS1600. Introduced in 1970, the RS1600 was a product of Ford's motorsport division, specifically designed to compete in various international rally events. Powering the RS1600 was a 1.6-liter twin-cam engine that produced an impressive 120 horsepower, which was quite impressive for a compact car of that era. It featured numerous performance-enhancing modifications, including improved suspension, wider tires, and larger brakes. The Escort RS1600 proved incredibly successful in rallying, helping Ford secure several victories in notable events such as the East African Safari Rally and the Monte Carlo Rally.
In the late 1970s, Ford introduced the Escort RS2000, another performance-oriented variant of the Escort. It featured a 2.0-liter inline-four engine, producing around 110 to 130 horsepower, depending on the specific model and year. The RS2000 was equipped with a more aggressive body kit, larger alloy wheels, and a firmer suspension setup, giving it a more distinct and sporty appearance. Although it wasn't as renowned in rallying as its predecessor, the RS2000 gained popularity among car enthusiasts for its relative affordability and enjoyable driving experience.
In the mid-1980s, Ford released the Escort XR3i, aimed at customers seeking a more spirited driving experience. The XR3i featured a 1.6-liter fuel-injected engine, producing around 105 horsepower, which was an improvement over the standard Escort models. It boasted a stiffer suspension, sportier body styling, and a variety of interior upgrades, including bucket seats and a leather-wrapped steering wheel. While not as potent as some of the previous Escort performance variants, the XR3i offered a more engaging driving experience and became a symbol of the 1980s "hot hatch" trend.
Lastly, in the early 1990s, Ford introduced a performance-oriented version called the Escort RS Cosworth. This version featured a turbocharged 2.0-liter engine, derived from Ford's efforts in the World Rally Championship. With an impressive power output of around 227 horsepower, the RS Cosworth was capable of reaching a top speed of over 140 mph. It was fitted with aggressive body kits, enlarged wheel arches, and a substantial rear wing, all of which enhanced its performance capabilities and aerodynamic efficiency. The Escort RS Cosworth remains one of the most iconic and sought-after performance variants of the Escort model range.
While the Ford Escort primarily focused on providing practical transportation, it did offer several noteworthy sport and performance variants throughout its production history. From the rally-bred RS1600 to the popular XR3i and the legendary RS Cosworth, these variants showcased Ford's commitment to injecting sportiness and excitement into their mass-market compact car. These performance iterations left a lasting impression on car enthusiasts and further enriched the Escort's legacy as a versatile and accessible automobile from the Ford lineup.