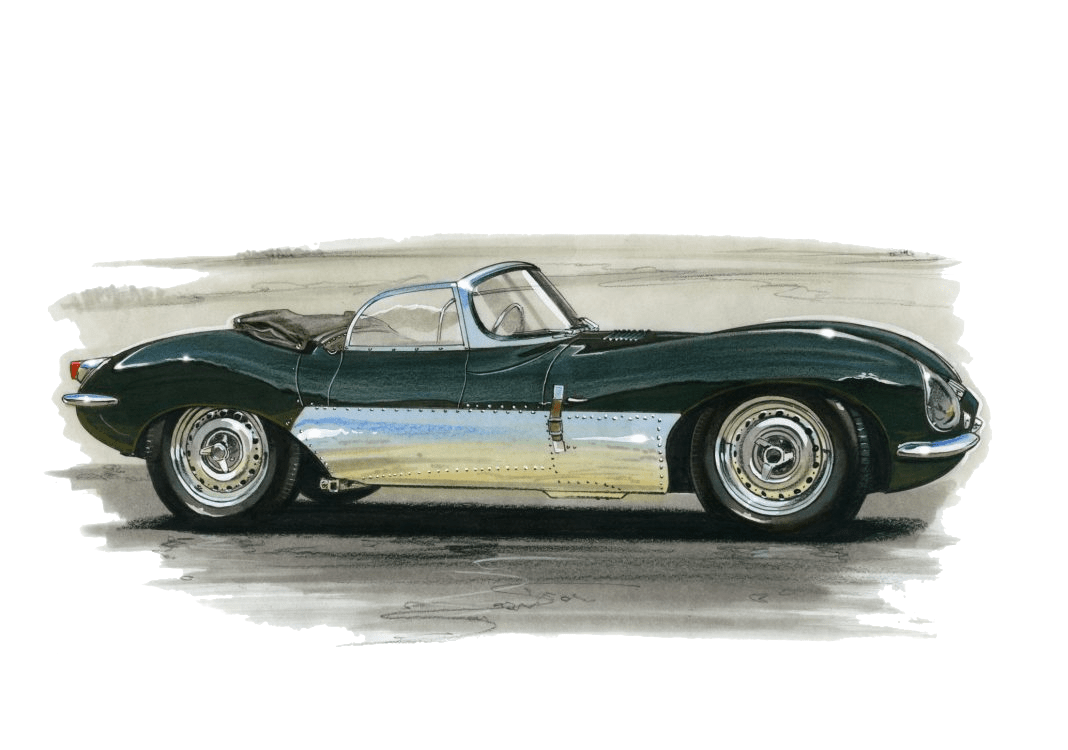 The Jaguar XK SS is a classic, British-made sports car that was produced by the esteemed automaker, Jaguar, in 1957. This iconic vehicle is renowned worldwide for its compelling combination of elegance, performance, and history. Considered a pillar of automotive design, the Jaguar XK SS has earned its place among the pantheon of the world's most exceptional road cars.
The XK SS was born out of Jaguar's racing legacy. Its predecessor, the D-Type, enjoyed a highly victorious career in motorsport, securing victory in Le Mans 24 Hours race in 1955, 1956, and 1957. When Jaguar decided to withdraw from competitive motorsports, they were left with a surplus of parts for the D-Type, thus sparking the conception of the XK SS.
The Jaguar XK SS was essentially a street-legal version of the D-Type. It substituted the previous model's monocoque construction with a traditional chassis and body, but retained the D-Type's 3.4-litre straight-six engine. The engine, equipped with three Weber carburettors, was capable of producing 250 horsepower, enabling the vehicle to accelerate from 0-60 mph in approximately five seconds, and reach top speeds of around 149 mph—impressive figures for the time.
In terms of design, the Jaguar XK SS is an outstanding representation of 1950s automotive styling. It carries a distinctive, aerodynamic form, with an elongated, sweeping bonnet and a short, curved tail. The minimalist interior, though not luxurious by modern standards, sports leather upholstery, a large, wood-rimmed steering wheel, and simple, front-facing gauges. The XK SS didn't feature a roof or side windows, and the doors were cut down to a minimum, emphasizing the car's no-nonsense, racing-derived approach.
Unfortunately, the XK SS's production run was cut short due to a disastrous fire at the Jaguar factory in Browns Lane, Coventry, in February 1957. Only 16 of the intended 25 cars had been completed before the fire, with the remaining nine cars left unfinished. The scarcity of this model has made surviving examples extremely valuable and sought after by car collectors worldwide.
In 2016, in a remarkable tribute to its heritage, Jaguar announced they would build the remaining nine cars from the original planned production run. These cars, known as the "continuation" models, were painstakingly hand-crafted to the original 1957 specifications and sold to select customers, further perpetuating the iconography of the XK SS.
In conclusion, the Jaguar XK SS is much more than just a vintage sports car. It's a symbol of automotive history, a token of Jaguar's racing roots, and a fine piece of artistry. With its potent performance, timeless design, and captivating backstory, the XK SS stands as a testament to Jaguar's capability to create truly extraordinary vehicles. It fully embodies the spirit of 1950s sports cars and continues to captivate the imagination of car enthusiasts all over the world.