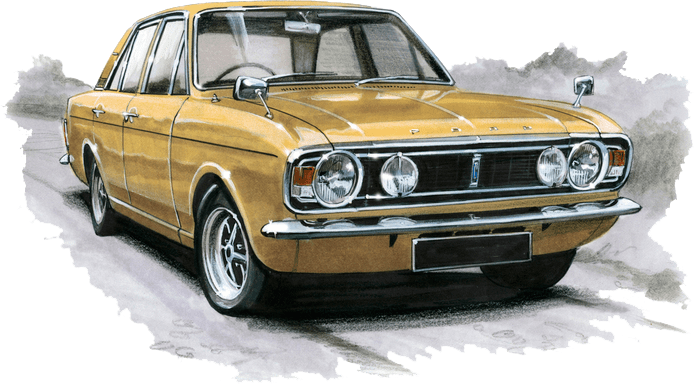 The Ford Cortina, an iconic car manufactured by the American automaker Ford, was first introduced in 1962 and quickly gained popularity, becoming one of the best-selling cars in the United Kingdom. The primary market for the Ford Cortina was the average working-class family looking for an affordable and reliable vehicle.
During the 1960s and 1970s, Britain experienced a period of economic growth, which resulted in an increase in the number of middle-income families. These families needed a car that was both practical and affordable, and the Ford Cortina fit the bill perfectly. With its affordable price tag, spacious interior, and decent performance, the Cortina became a symbol of the middle-class lifestyle.
At the time, British car manufacturers dominated the market, and the Ford Cortina faced competition from other popular models such as the Morris Minor, Austin A40, and the Vauxhall Viva. However, the Cortina managed to stand out in terms of design, reliability, and affordability, making it a favorable choice among potential buyers.
The Ford Cortina was offered in several different models, each tailored to meet the needs and preferences of various customers. The base models featured a simple but functional design, while the more premium versions boasted additional features and a touch of elegance. This allowed the Cortina to cater to a wide range of customers, from young professionals looking for a reliable everyday car to families seeking a comfortable and practical vehicle for their daily needs.
Another factor that contributed to the popularity of the Ford Cortina was its adaptability. Ford continuously introduced new versions and updates to keep up with changing consumer expectations. From the basic Mark I model released in 1962 to the more sophisticated and modern Mark V version introduced in 1979, the Cortina continuously evolved to cater to the ever-changing market demands.
Furthermore, Ford actively marketed the Cortina using various advertising campaigns that emphasized its practicality, affordability, and reliability. These marketing efforts, combined with the positive word-of-mouth generated by satisfied customers, helped the Ford Cortina to dominate the British car market for over two decades.
In conclusion, the primary market for the Ford Cortina was the average working-class family in the United Kingdom. Its affordability, reliability, and adaptability made it an appealing option for those seeking a practical and economical car. The Ford Cortina's success in the market can be attributed to its ability to meet the needs and preferences of the middle-class consumers during a period of economic growth in Britain.