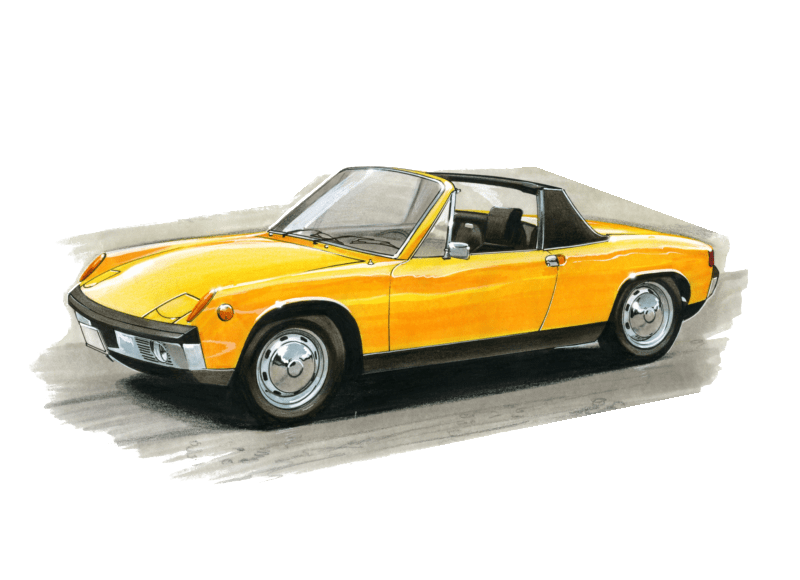 The Porsche 914 is a classic sports car that has captured the hearts of enthusiasts worldwide. Produced between 1969 and 1976, it was a collaborative effort between German car manufacturer Porsche and Volkswagen. Initially, the partnership aimed to design an affordable, entry-level sports car that could serve as a successor to the highly successful Porsche 356. Over its production run, the Porsche 914 went through several changes and transformations, resulting in a total of three generations.
First Generation (1969-1972):
The inaugural batch of Porsche 914s hit the market in 1969. It featured a mid-engine design, which was relatively rare at the time for a sports car. The first generation was powered by a range of engines, including four-cylinder units developed by Volkswagen and flat-six engines sourced from Porsche. The most popular models from this generation included the Porsche 914/4 and the Porsche 914/6. The former utilized a 1.7-liter engine, while the latter, often regarded as the purist's choice, boasted a more powerful 2.0-liter engine.
Second Generation (1973-1974):
In the early 1970s, the Porsche 914 went through a facelift, resulting in the second generation. This update brought about some design revisions, both aesthetically and mechanically. Notable exterior changes included revised bumpers and impact-resistant safety features due to tightening regulations. The car's interior received updates as well, enhancing comfort and ergonomics. Mechanically, the second generation Porsche 914 featured updated suspension components, improving ride quality and handling.
Third Generation (1975-1976):
For its final hurrah, the Porsche 914 received another set of revisions, giving birth to the third generation. However, the changes were primarily cosmetic, as the underlying mechanicals mostly carried over from the previous generation. The most notable difference in the third-generation Porsche 914 was its distinctive black rear bumper with integrated rubber accordion elements. This modification aimed to meet US crash safety standards. Additionally, some minor updates were made to the interior, such as revised gauges and switches.
It is essential to note that while Porsche produced the 914, Volkswagen marketed Badged versions of the car as the Volkswagen-Porsche 914 until 1974. Following Volkswagen's departure from the partnership, Porsche continued to produce the 914 under its branding until it was ultimately discontinued in 1976.
The Porsche 914 may not have seen as many generations as some of its iconic siblings like the 911, but its impact on the sports car market remains noticeable. The collaboration between Porsche and Volkswagen birthed an exciting and unique mid-engine sports car that continues to hold a special place in the hearts of car enthusiasts worldwide. Regardless of the generation, the Porsche 914 is a testament to German engineering and design, showcasing the ability to create an affordable and engaging sports car.