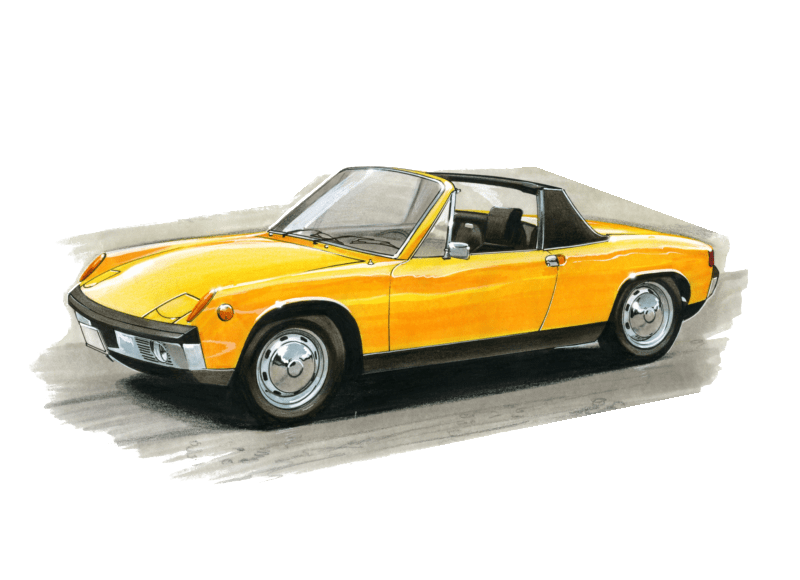 The Porsche 914, a mid-engine sports car, has a fascinating history that is marked by both success and controversy. Originally introduced in the late 1960s, this vehicle was the first major collaboration between Porsche and Volkswagen (VW). The body of the car was designed by Heinrich Klie, a vehicle engineer who had previously worked with Porsche on the design of the 911.
Porsche's proposal to Volkswagen was to build an affordable sports car that would be comfortable for daily use. The 914 was designed to replace the Porsche 912, a 4-cylinder version of the historic Porsche 911, and the VW Karmann Ghia, a 2+2 coupe.
The Porsche 914 was unveiled at the Frankfurt Auto Show in September 1969 and immediately generated strong sales. The car had a targa-style removable roof, which could be stored in the trunk, contributing to a sleek look when the top was off.
But controversy was soon to follow; the Porsche 914 was criticized for a lack of power as a result of its VW roots. The model was introduced with a choice between two flat-four engines, a 1.7-litre or 2.0-litre for the European market, and a 1.8-litre or 2.0-litre for the American market. These engines were viewed as weak in comparison to other contemporary sports cars, and the styling of the car was criticized as being too bland and uninteresting.
To offset these criticisms, Porsche introduced the 914/6 model, which had a six-cylinder engine from the Porsche 911 T. However, the 914/6 was more than twice the price of the standard 914, making it less appealing to the market that Porsche was trying to target.
Meanwhile, another crisis was brewing; the death of VW chairman Heinrich Nordhoff in 1968 led to disagreements between Porsche and VW on how to manage the production cost. This disagreement eventually led to the discontinuation of the 914/6 just three years later, in 1972.
Despite these challenges, the standard 914 model was a commercial success, especially in the United States. Between 1970 and 1976, Porsche produced more than 118,000 units of the 914.
The end of the 914's production in 1976 marked the end of this era, but the car left quite a legacy behind it. It paved the way for future successful collaborations between Porsche and Volkswagen, and it gave birth to an active fanbase that continues to cherish the 914 for its unique design and history. Today, it's seen as a symbol of the era it was made in, appreciated by vintage car enthusiasts all over the world.
Top questions about Porsche 914 (FAQ):