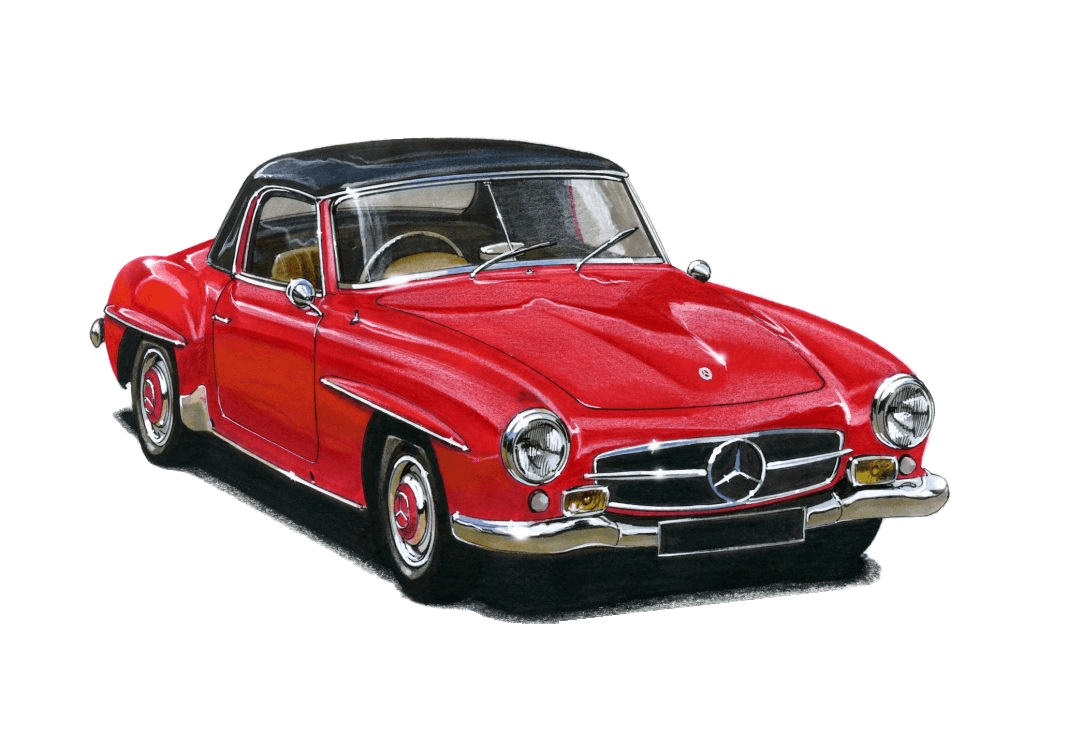 The Mercedes-Benz 190SL, introduced in 1954, is widely recognized as one of the most iconic and timeless sports cars of its time. As a captivating and elegant counterpart to the legendary 300SL, the 190SL has garnered a dedicated following among classic car enthusiasts. While the 190SL had a relatively short production run, only spanning a decade, it spawned several variants that further enhanced its appeal and versatility. Let's explore the various iterations of this beloved automobile.
First and foremost, it is essential to note that despite the existence of different variants, the fundamental design and mechanics of the 190SL remained largely unchanged throughout its production period. Defined by its sleek bodywork, graceful lines, and a compact size, the 190SL possessed a timeless appeal that has endured to this day.
The original model, unveiled in 1954, featured a 1.9-liter inline-four engine capable of producing 105 horsepower. This power plant, combined with its lightweight construction, enabled the 190SL to cruise effortlessly on both city streets and open highways. Its comfortable interior, complete with luxurious touches like leather upholstery and wooden accents, allowed for an enjoyable driving experience.
In 1957, Mercedes-Benz released a slightly updated version of the 190SL, commonly known as the "Type A." While the most apparent change was the adoption of a larger, one-piece rear bumper replacing the previous two-piece design, other modifications were made under the hood. The "Type A" featured an improved synchromesh transmission, enhancing the driving dynamics and overall performance of the vehicle.
Despite the popularity of the 190SL's initial models, Mercedes-Benz recognized the need for further flexibility to accommodate various market demands. As a result, they introduced the option of a removable hardtop in 1958. The detachable hardtop provided additional convenience and comfort during colder months and enabled the 190SL to transform into an open-topped roadster during sunnier days.
In terms of production numbers, there were approximately 25,881 Mercedes-Benz 190SLs produced between 1954 and 1963. However, it is worth noting that these figures include all the variants and iterations collectively. Unfortunately, Mercedes-Benz did not officially distinguish specific sub-models or release separate production data for each variant.
While the changes between the different 190SL iterations were relatively minor, the availability of options such as the removable hardtop and improved transmission significantly enhanced the overall driving experience. Moreover, these incremental updates ensured that the 190SL remained competitive in the rapidly evolving sports car market of the time.
Today, the Mercedes-Benz 190SL continues to captivate classic car enthusiasts with its timeless design, elegant aesthetics, and superb driving dynamics. Despite the absence of distinct variations within the 190SL lineup, the combination of its essential characteristics and the optional upgrades make each model a compelling option for vintage car collectors and enthusiasts alike.