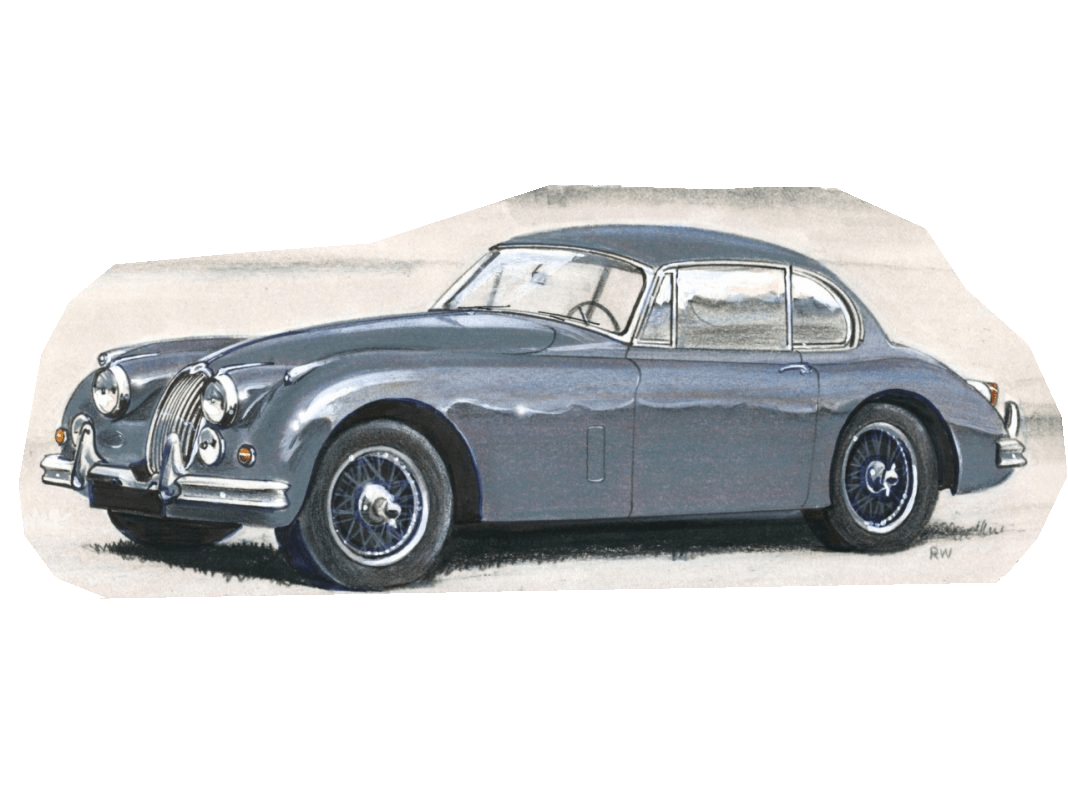 The vintage Jaguar XK 150, a marvel of the British automobile industry, was launched in 1957 as a successor to the XK140. In the shadow of its eye-catching aesthetics were its impressive, ahead-of-its-era features and a high-performance drivetrain. The revolutionary XK150 was offered in several distinguished models, which incorporated coupe and convertible styles. The most notable versions included the XK150 Fixed Head Coupé (FHC), XK150 Drophead Coupe (DHC), and the XK150 Roadster or Open Two Seater (OTS).
The XK150 Fixed Head Coupe (FHC) was the first model to be released in 1957. It was an avant-garde beauty with a more refined and comfortable interior as compared to its predecessor, the XK140. The FHC model was built with a one-piece windscreen replacing the split screen, giving it a sleek profile. It had a more luxurious feel, creating a unique blend of a sporting car and creature comfort. This version of the XK150 mainly sported two engine options: a 3.4L DOHC Inline 6 that produced around 190 horsepower and a 3.4L DOHC Inline 6 'S' that pumped out 250 horsepower.
The XK150 Drophead Coupe (DHC) was introduced in 1958 as a version aimed at blending the FHC's luxury elements with an offering of a convertible roof. The DHC featured a high-quality, fully lined power-operated convertible top and roll-up windows, making it an all-weather tourer. This made it a masterpiece in terms of both performance and style. The DHC models primarily came with two engine variants, similar to the FHC: a normal 3.4L producing around 210 horsepower and the 3.4L 'S' model capable of churning out 250 horsepower.
Lastly, the XK150 Open Two Seater (OTS), commonly known as the XK150 Roadster, was launched in 1958. It was an open-top car with no exterior door handles. With its athletic profile and high-performance capabilities, it appealed to buyers looking for a more traditional sports car experience. The OTS models used the same engines as the FHC and DHC models and also introduced the 3.8L DOHC Inline 6 engine option later in 1959.
In an attempt to cater to an ever-demanding customer base stipulating more power, Jaguar also introduced the powerful XK150 'S' models. This performance-focused version was equipped with three carburetors, delivering a more exhilarating driving experience. It was available in both the standard 3.4L and the later 3.8L engines.
For its time, the Jaguar XK150, with its various models, was truly a masterpiece of engineering that was as functionally impressive as it was enchanting. Each model of the XK150 possessed unique characteristics to suit different types of consumers. Whether buyers were looking for a luxurious grand tourer (FHC and DHC models) or a traditional open-top sports car experience (OTS model), the XK150 range was impeccably designed to match their desires. Today, these classic machines stand as testament to Jaguar's rich heritage in the realm of automobile excellence.