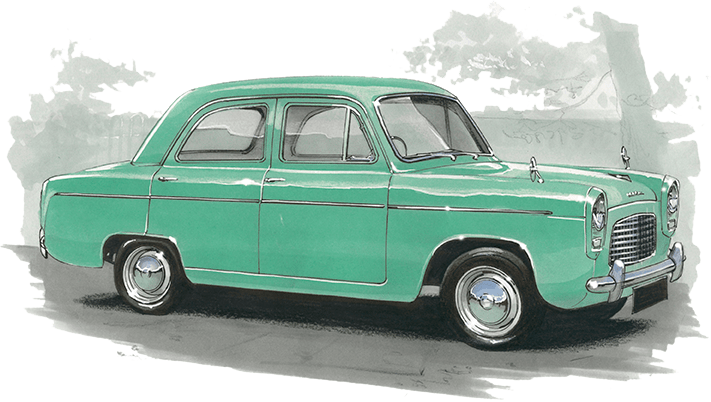 The Ford Popular, a popular car model produced by the Ford Motor Company from 1953 to 1962, might have been one of Britain's most beloved vehicles, but it certainly faced some tough competition from rival car manufacturers during its heyday. Let's take a closer look at some of the main competitors of the Ford Popular and the features that set them apart.
1. Morris Minor: Introduced in 1948, the Morris Minor posed a tough challenge for the Ford Popular. It was a compact family car known for its durability and affordable price. The Minor had a more modern design, featuring a sleeker and more aerodynamic body shape compared to the Popular. Furthermore, it offered better comfort and performance, making it a strong contender against Ford's budget-friendly model.
2. Austin A30/A35: Produced by the British Motor Corporation (BMC) from 1951 to 1962, the Austin A30 and its later iteration, the A35, were notable competitors to the Ford Popular. These small family cars appealed to the same market segment as the Popular, offering reliability, economy, and practicality. The A30 and A35 had a slightly more sophisticated design, better handling, and a higher-quality interior, attracting customers who sought a more refined driving experience.
3. Hillman Minx: Manufactured by the Rootes Group, the Hillman Minx was a range of family cars produced from 1931 to 1970. Though it belonged to a higher price bracket compared to the Ford Popular, the Minx offered superior features such as independent front suspension, better performance, and a more spacious interior. These qualities made the Minx an appealing option for customers willing to pay a little more for added comfort and reliability.
4. Vauxhall Wyvern: The Vauxhall Wyvern, produced from 1948 to 1957, was another worthy competitor to the Ford Popular. It was a mid-size family car known for its sturdy build and smooth handling. The Wyvern boasted a more modern appearance, offering sleek lines and a spacious interior. Additionally, it came equipped with features like hydraulic brakes and an optional heater, which made it a popular choice among consumers looking for extra comfort.
5. Standard Eight/10: The Standard Eight and its successor, the Standard 10, were economy cars produced by the Standard Motor Company. These compact and affordable vehicles were launched post-World War II to cater to the rising demand for affordable transportation. Like the Ford Popular, they were basic, inexpensive cars designed for a budget-conscious audience. However, the Standard 10 had a slightly more advanced design and better performance, which could entice some customers away from the Popular.
In a highly competitive market, the Ford Popular held its ground as a budget-friendly and reliable vehicle. However, its rivals consistently offered more advanced features, comfort, and slightly higher quality, which might have influenced consumers seeking a bit more refinement from their cars. Nonetheless, the Ford Popular's popularity endured due to its affordability and widespread availability, ensuring its place in automotive history.