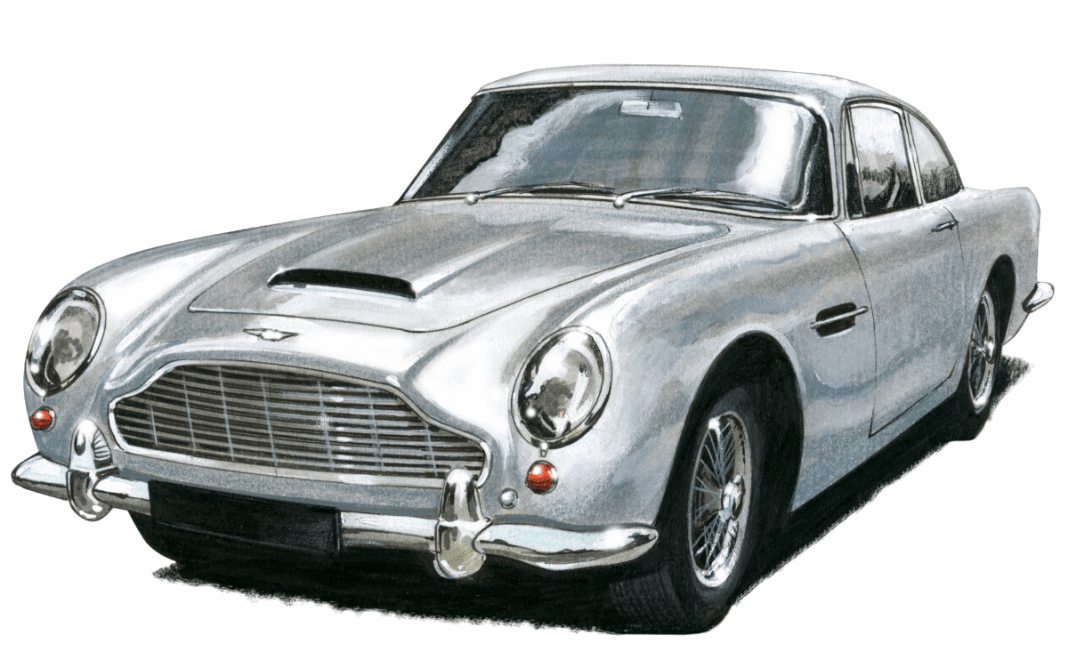 This model is all about signs of style, luxury and comfort. It is even hard to imagine how much it costs now. Average price is about 300 000£. DB 5 for sale was produced mainly with a right side steering wheel for the UK market. 833 cars were made with standard coupé bodies. Total number of vehicles produced is 1084. All models have amazing interiors complemented by wool carpets, leather seats, and even an air conditioning system is was optionally available.
Steering wheel is decorated with natural wood. Stylish clock built into the front panel. Each car was designed for four persons, but as it is a coupé only two can ride comfortably. There are no any doubts about what does DBs stand for—excellent driving experience during long trips with high-speed riding.
Aston Martin DB5 wasn't a replica of another standard car. An Italian design studio took part in creating the appearance of such a popular vehicle, so its value is justified by the effort which was put in by the producer.
Body types and the rarest models
Many people know about DB 5 because auto was used in a series of James Bond films. It is worth to say that famous actor Sean Connery was driving an Aston Martin in a movie. Actually some modifications took place during the production period of DB5. There was:
coupé;
convertible;
shooting brake.
The last one variant was prepared specially for SIR David Brown an owner of the brand. Replicas of the shooting brake also were made by third party companies. There were 11 vehicles in total. For the basis were taken stock coupés.
In 1964 was presented a new model of DB5 called Vantage. This was an advanced modification of a standard car. Changes were concentrated on the technical characteristics of the vehicle, especially on the engine. Only 12 of Vantage models were with convertible types of body.
Technical specifications
Despite this car is kind of a vintage example, the characteristics of a standard engine sound quite impressive. The simplest configuration can develop more than 280 horsepower with maximum speed up to 140 miles per hour. Acceleration to 60 miles takes just 8 seconds. For the Vantage version all numbers are even more interesting. Engine can generate 325 horsepower. Maximum speed close to the point of 140 miles, and acceleration to 60 miles for 6,5 seconds. Each configuration includes a big fuel tank for long journeys and an oil cooling system. Some individuals like Aston Martin for its classical original 15 inches wheels. Optionally was available automatic or manual transmission. The last cars were produced in 1965.
Many of these vehicles are still used by collectors. Because of its exceptional quality, DB5 is able to offer good feelings from driving. Fast acceleration, good maneuverability of the grand tourer, and luxury interior make any trip unforgettable. Driver has a good visibility and electric windows, so all that the owner has to do is enjoy the road. People like this car as it is simple and simultaneously brilliant, never out of fashion, and reliable.
Top questions about Aston Martin DB5 (FAQ):