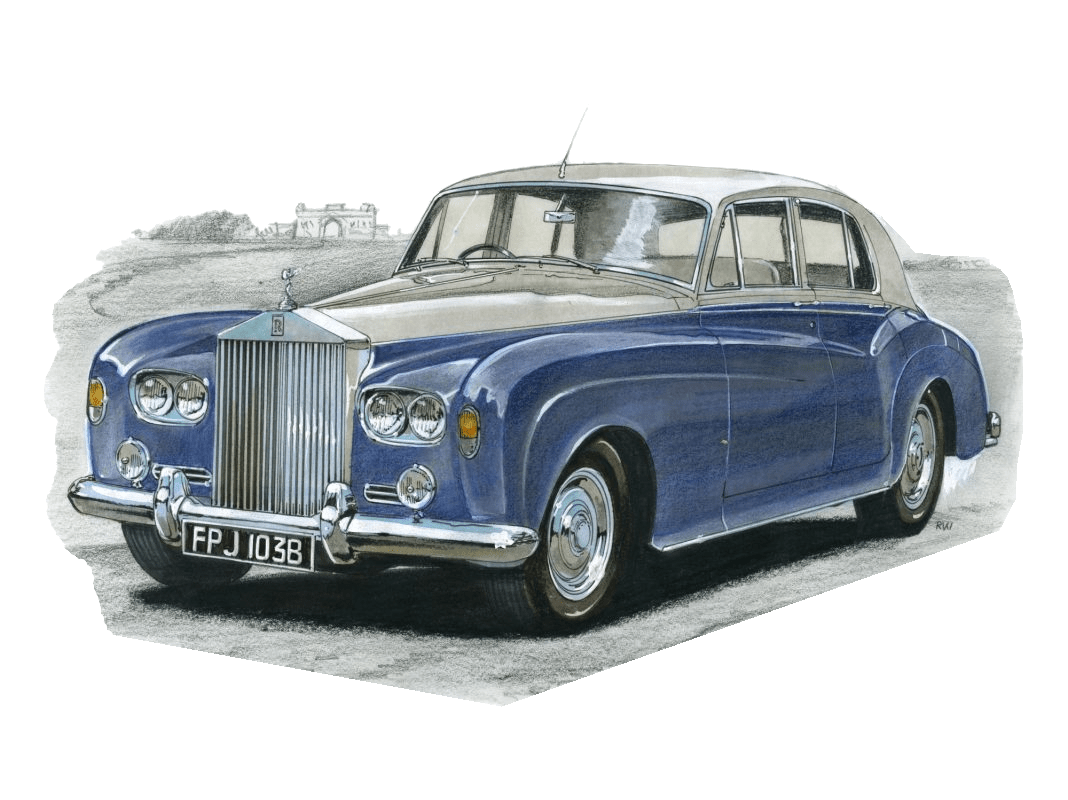 The Rolls-Royce Silver Cloud III, launched in 1963, is the last in a distinguished line of vehicles from the Silver Cloud series. As the final evolution of this classic collection, the Silver Cloud III ushered in a variety of innovative changes that distinctively differentiated it from its predecessors, with the majority of these differences manifesting in its exterior design.
On a general note, the Silver Cloud III adopted a more streamlined and modern appeal, straying away from the more bulky and traditional look of its predecessors. One of the most evident changes from earlier models was the incorporation of quad headlamps. Unlike the Silver Cloud I and II that had single headlamps on each side of the car, the Silver Cloud III introduced dual headlamps, making a significant break from its previous designs. Aside from modernizing the car's aesthetic, this increased light projection, a nod to the evolving utility and safety considerations in automotive design.
The Silver Cloud III's iconic radiator grille became narrower and subtly curved, and was harmoniously integrated with the sculpting of the bonnet. Unlike the upright grilles of the previous models, this gave the Silver Cloud III an air of dynamism and movement, even when stationary. The bonnet also featured a re-contoured design, further accentuating the sleek appeal of the car.
Another significant alteration was the imposition of a 2-inch reduction in the car's height, achieved without compromising the spaciousness of the interior cabin. This exquisite change made the Silver Cloud III seem longer and more elegant, lending an athletic and ambitious character to the car, very much embodying the spirit of the Swinging Sixties.
The Silver Cloud III also sported slightly flatter fins at the rear, which were more integrated with the overall lines of the car. The sleeker and more streamlined tail fin design gave it a more pronounced horizontal emphasis, further enhancing the perception of speed and grace.
The model also introduced new, standard steel wheel covers that gave the car an updated, polished look. While the Silver Cloud I and II had a winged emblem cap on the wheel covers, the Silver Cloud III changed it to a RR monogram in the center – an emblematic representation of Rolls-Royce's prestige and identity.
Overall, while the transformation from the Silver Cloud II to the Silver Cloud III might not have been radical, it was undoubtedly significant. Rolls-Royce succeeded in refining their design, subtly yet decisively evolving the Silver Cloud's aesthetic to reflect the emerging trends of the period, resulting in a vehicle that was simultaneously modern and timeless. These changes in exterior design not only enhanced the car's aesthetic but also contributed positively to its aerodynamics and handling, ensuring that the Silver Cloud III was as much a pleasure to drive as it was to behold.
Return to Rolls Royce Silver Cloud III