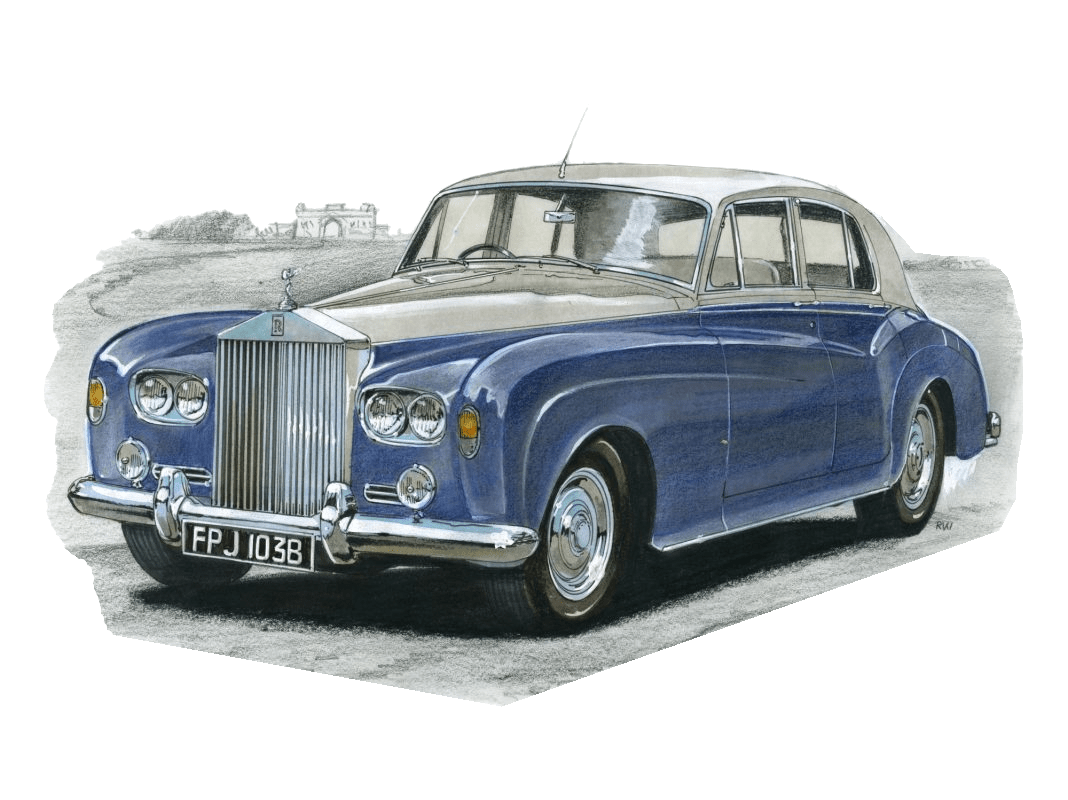 The Silver Cloud III, a paragon of automotive luxury, symbolizes the Rolls-Royce brand's commitment to the highest standards of British craftsmanship. Produced, from 1963 through 1966, the Silver Cloud III, the final facelift of the Silver Cloud range, was hailed for its opulence, robustness, and grandeur. Yet, standard features aside, what truly set this vehicle apart were the optional features that customers could select to enhance their driving experience. Adding additional layers of comfort and convenience onto an already deluxe automobile, they turned the Silver Cloud III into a sublime sanctuary of luxury.
Quite a few of the Silver Cloud III examples were delivered as "standard steel saloons"—vehicles directly manufactured by Rolls-Royce without any additional customized coachbuilding. However, discerning customers had the ability to elevate their Silver Cloud III through a variety of optional features.
One such feature was the custom coachwork. Customers had the opportunity to work closely with several esteemed coachbuilders in the United Kingdom, including James Young and H.J. Mulliner, Park Ward & Co. These collaborations made it possible for the owners to give a personalized touch to their vehicles, with optional features ranging from extended or modified wheelbases, to a variety of distinct body styles, including coupes and convertible drophead coupes.
For lovers of power and speed, there was an option to upgrade to a larger, 6.2-liter V8 engine, which offered improved acceleration and top speed compared to the standard 6.0-liter engine. This optional upgrade has proven to be particularly advantageous for the heavier coachbuilt versions, ensuring they had the necessary power to deliver a smooth yet exhilarating drive.
Luxury and comfort were paramount in the Silver Cloud III, and the optional features reflected this ethos. Air conditioning, then a relatively new innovation in auto-mobile technology, was offered as an optional feature, providing a welcome respite from the summer heat for the high clientele. Additionally, customers could also choose electrically operated windows—an uncommon luxury at that time.
Convenience-orientated features were also made available. Power steering, which greatly improved the handling of this sizable automobile, was a popular choice. This was particularly welcome as the Silver Cloud III maintained the traditional Rolls-Royce size and weight.
For individuals seeking the highest possible degree of luxury, Rolls-Royce provided the opportunity to opt for the 'limousine-style' add-ons which were customarily available only to the Phantom range. These features included a partition window between the driver and the passengers, a telephone, fitted cocktail cabinets in the rear compartment, and a picnic table.
It is worth noting that Rolls-Royce was willing to cater to the individual requests of high-end customers for bespoke additions, which leads to an impressive array of unique details, from monograms and family crests on the doors to fine wood and particular leather choices for the interiors.
In conclusion, the Silver Cloud III with its optional features transformed a motoring experience into a grand voyage, making it stand out even within Rolls-Royce's own fleet. With every optional addition tastefully elaborated to meet the buyer's personal aesthetic and whims, these vehicles became symbols of status and luxury, embodying the timeless heritage of the Rolls-Royce persona. This ability for personalization, along with its iconic design, ensures that the Silver Cloud III continues to be treasured by automotive enthusiasts today.
Return to Rolls Royce Silver Cloud III