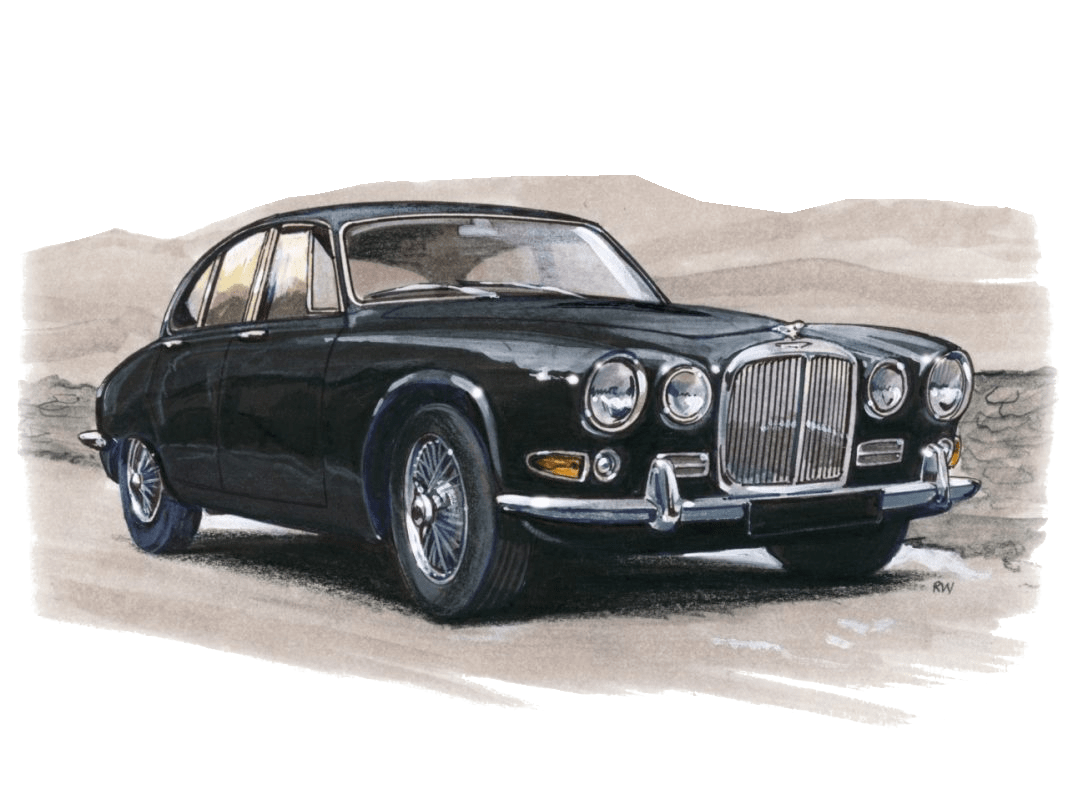 In the vast pantheon of automotive excellence, one name that perennially reverberates with a uniquely compelling resonance is undoubtedly that of Jaguar. An eminent beacon of British automotive history, Jaguar has been synonymous with luxury, performance, and style. One particular manifestation of this stylish performance luxury was the Jaguar 420. This model, often overlooked in the wake of its more famous siblings like the E-Type or the XJ series, carries a distinct appeal, marked by its curvaceous design and robust performance capabilities.
The Jaguar 420 is a saloon car that was in production from 1966 through to 1968. It was introduced at the Earls Court Motor Show in London in October 1966, touted as a compact sporting saloon that was both comfortable and performance-minded. So robust and appealing was its design that it remained in production for a relatively short but impactful span of about two years.
The relatively short production run of the Jaguar 420 could be attributed, in part, to the arrival of the Jaguar XJ6 in 1968. The XJ6 was designed to replace all of the existing Jaguar saloons, including the 420, and the launch of this new model meant that production of the 420 was discontinued.
During its brief era, the 420 was a distinct mark of Jaguar's automotive vision. It was derived from the earlier Jaguar S-Type, improving upon its design by incorporating a number of refinements and tweaks that bolstered its performance. With a potent 4.2-liter engine, the model offered strong acceleration while its overall design commonly drew comparison to various higher-end Jaguars, thus earning its place as a unique installment within Jaguar's robust lineup.
The 420 boasted double wishbone front suspension and a well-balanced rear suspension, giving it remarkable stability and handling. The addition of bigger disc brakes added to its road safety, while the introduction of improved reclining front seats ensured a comfortable drive. Interior upgrades, including richer veneer and trim upgrades, added a layer of luxury that was synonymous with the Jaguar brand.
Despite the short production time for the Jaguar 420, the model sold rather well with nearly 10,000 units made during its brief production run. After the 420 model, Jaguar moved its focus to the XJ series, which spanned multiple decades and became a defining model range for the automaker.
While the production era of the Jaguar 420 was indeed quite short, it was nonetheless a remarkable period marked by advancement and marked improvements in performance, comfort, and luxury. The Jaguar 420 may not have long graced the production lines, but its legacy continues to be cherished by vintage car enthusiasts and Jaguar aficionados worldwide. The elegance, performance, and charm of the Jaguar 420 proved that while its production run may have been fleeting, its impact has been forever etched in the annals of automotive history.