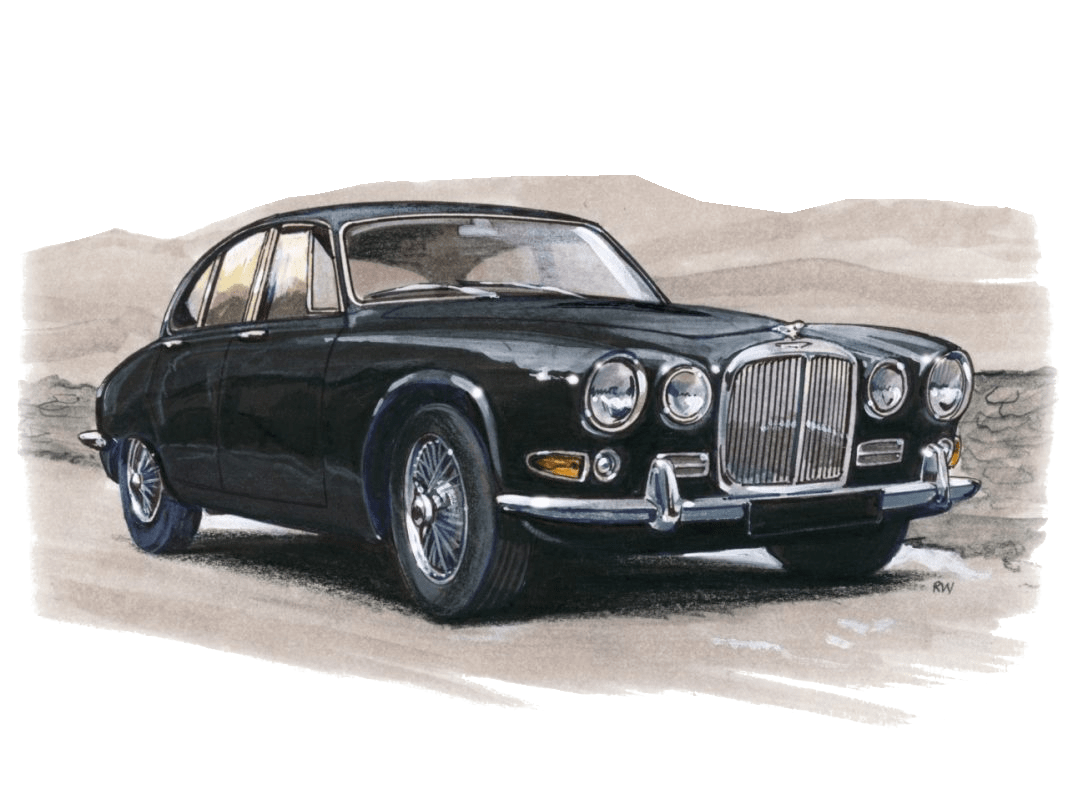 Introduced in 1966, the Jaguar 420 marked a defining milestone in the long history of Jaguar luxury saloon cars. Primarily aimed at the U.S market, the Jaguar 420 instantly appealed to buyers due to its sophisticated design, high-performance engineering, lavish comfort, and a plethora of distinctive features that set it apart from its competitors.
1. Design and Body:
The Jaguar 420 showcased a unique blend of sporty elegance coupled with modern aesthetics, which was a departure from the traditional design of Jaguar saloons. With its four-headlamp arrangement borrowed from the Jaguar S-type, the car's frontal design was sleek and visually attractive. The 420 also had a more squat, assertive stance with increased track width at the front and rear compared to its predecessor, the Mark II.
2. Engine and Performance:
Under the hood, the Jaguar 420 boasted a 4.2-litre, six-cylinder XK engine. This power-packed engine produced 245 brake horsepower and 384 Nm of torque, giving the car an impressive top speed of approximately 125 mph. These figures, at the time, marked the 420 as one of the most potent saloons on the market, evidencing Jaguar's commitment to developing performance-oriented luxury vehicles.
3. Interior Luxury:
The cabin of the Jaguar 420 maintained the iconic Jaguar tradition of luxury and comfort. It was fully carpeted and fitted with high-quality, leather seats. A veneered dashboard and door cappings complemented the lush interior's opulence, asserting an ambiance of grandeur and sophistication. It further included standard-fit power steering, which enhanced the handling and driving experience, a feature which set it apart in the 1960s.
4. Brake and Suspension:
The 420 introduced the feature of a dual-line braking system, a first among Jaguar saloons. It was equipped with disc brakes all around, split between front and rear circuits, which boosted its stopping power and stability. For superior handling and comfort, it used an independent coil spring rear suspension and a wide track, wishbone, and coil spring independent front end.
5. Production and Legacy:
Though produced for a short duration of two years, the Jaguar 420 made quite an impact in the realm of luxury saloons. It served as an archetype for subsequent models, specifically the iconic Jaguar XJ6.
In conclusion, the Jaguar 420 was much more than a midsized luxury saloon. With its advanced engineering, luxurious appointments, and unique styling, it marked a bold step forward in Jaguar's evolution. Its distinctive features not only identified it as one of the finest cars of its era but also laid the groundwork for the reputation that Jaguar enjoys today. Even after more than half a century since its launch, the Jaguar 420's allure remains intact amongst classic car enthusiasts and Jaguar loyalists. It stands as a testament to the pioneering spirit that has signified Jaguar as a beacon of excellence and innovation in the automotive industry.