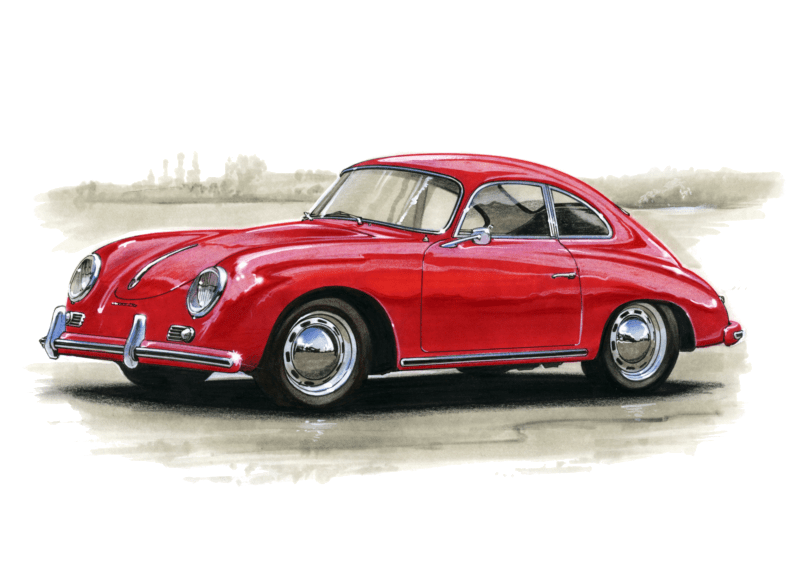 The Porsche 356, a lightweight and nimble handling rear-engine, rear-wheel-drive, 2-door sports car, is the car that started it all for the now world-renowned German automaker Porsche. Designed and built by Ferdinand "Ferry" Porsche, the son of the founder of the company, Ferdinand Porsche, the 356 was Porsche's first-ever production automobile.
Production of the 356 started in 1948 in Gmünd, Austria, where approximately 50 cars were built. In 1950, the production line moved to Zuffenhausen, Germany, where the car continued to evolve and improve over time.
The 356 was released in several versions, including three updates (356, 356A, 356B, and 356C), as well as different body styles — coupe, convertible and roadster. They were powered by a four-cylinder, air-cooled, rear-engine configuration, a setup that would become a hallmark of the brand.
The first 356s were all hand-built and featured an aluminium body. However, when production moved to Germany, Porsche started to use steel for the bodywork. These early models came equipped with a 1.1-liter engine that produced just 40 horsepower. By the time the 356B was in production in the late 1950s, engines had grown to 1.6 liters producing between 60 and 90 horsepower.
The 356 made its mark not just as a road car but also as a racing vehicle, proving successful in races like the Le Mans 24 hour and the Mille Miglia. Its lightweight design and nimble handling characteristics were key factors in its racing success.
The final iteration of the 356 was the 356C, which came standard with disc brakes and an option for the most powerful pushrod engine Porsche had ever produced, the 95 hp "SC".
But by the mid-1960s, it was clear that Porsche needed a new model to continue to compete and evolve. The development and introduction of the iconic Porsche 911 meant the 356 production eventually ended in 1965.
In recent years, Porsche 356s have become highly valued among collectors. Its innovative design, technical maturity, and widespread success on the race track laid an irrefutable foundation for everything that would follow in Porsche's history. The fact that so many 356s are still on the road today, over 70 years after the first one was manufactured, is testament to their enduring appeal and robust build quality.
Top questions about Porsche 356 (FAQ):